RealEstat.id (Cilegon) – PT Grand Mangku Putra signed a memorandum of understanding (MoU) with PT Bally Internasional Hotel & Resort (a member of Riyadh Group Indonesia) to manage and develop The Grand Mangku Putra Arcade, an integrated property development located in Cibeber, Cilegon, Banten.
The MoU was signed by Tubagus Iman Ariyadi, President Director of PT Grand Mangku Putra and Bally Saputra Datuk Janosati, President Director of Riyadh Group Indonesia, Saturday (22/1/2022).
Through this agreement, Riyadh Group Indonesia will manage and develop The Grand Mangku Putra Hotel and an area of ​​4.5 hectares owned by PT Grand Mangku Putra which is located in the heart of Cilegon City and right at the Cilegon Timur toll gate.
Read More: Riyadh Group Indonesia Officially Enters Healthcare Services Business
In addition, Riyadh Group will also manage two other assets belonging to PT Grand Mangku Putra located in Merak and Jombang Cilegon that will develop as international standard hospitals.
Bally Saputra, CEO of Riyadh Group Indonesia, said that The Grand Mangku Putra Hotel would be converted and rebranded as Bally Hotel and Convention Center. Most of the hotel rooms will become four-star condominium hotels (condotel) after the renovation process.
According to Bally, condotel buyers will get a rental guarantee of 8% per year for eight years. Condotel units are offered fully furnished with strata-title ownership for IDR1 billion to IDR2 billion.
Read More: Riyadh Group Indonesia and ICHC to Develop Halal Tourism Industry in Indonesia
The convention center building and meeting room at The Grand Mangku Putra Arcade Cilegon can accommodate around 2000 people. In addition to the condotel and convention center, The Grand Mangku Putra Arcade will also soon open The New Natrabu Padang Restaurant with a capacity of around 660 seats—which is said to be the largest Padang restaurant in the world.
"At The Grand Mangku Putra Arcade, we will also provide The Consulate Lounge with a capacity of 250 people which can be a gathering place for foreign workers, business people, and the Cilegon community," said Bally.
"As we all know, Cilegon is one of the richest cities in Indonesia, probably in the top five. In this city, many large-scale industries and factories use a lot of foreign workers. These foreigners (expatriates) are an added value for the potential of the property market in Cilegon City," said Bally, who is also the Secretary of the BPO DPP Real Estate Indonesia (REI).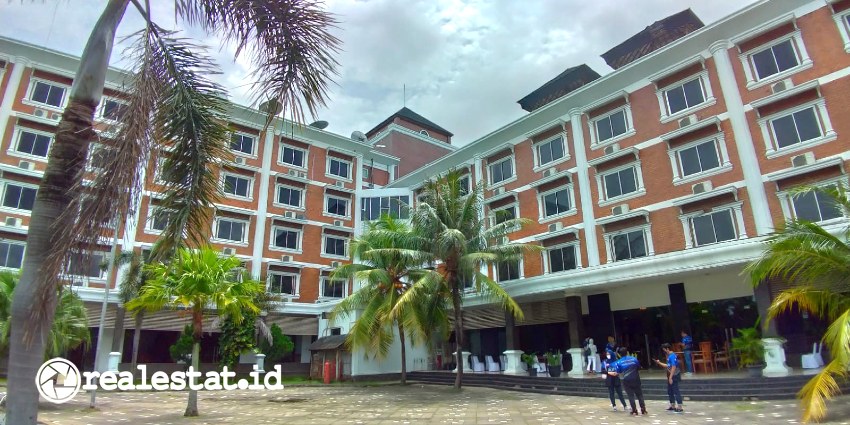 In terms of location, Cilegon is very strategic because it is in the middle of Anyer, Bojonegara, Merak, Serang and Lampung so that it can become a new magnet for business and economic activities in Banten.
But unfortunately, he added, there are no adequate hotels, meeting and lifestyle buildings, apartments, condotels and hospitals in Cilegon.
This condition makes industrial employees, including expatriates in Cilegon, prefer to live in Serang, Karawaci, BSD City or Alam Sutera, which takes about 30 to 45 minutes from Cilegon. Many corporate activities are also held outside of Cilegon City due to the lack of meeting facilities and meeting rooms.
Future Development
Bally revealed, for the development of The Grand Mangku Putra Arcade Cilegon in the future, a lifestyle mall will be built with a total land area of ​​2.5 hectares. In the first phase, an area of ​​5,000 square meters will be built to facilitate about 25 tenants.
Bally said the developer plans to build two apartment towers with a total of 800 units and one 3-star hotel in this location. He hopes that this apartment can be built immediately after the Covid-19 pandemic has passed, or 2024 at the latest.
Read More: Jakarta's Expatriate Housing Market: What You Need to Know
Meanwhile, Tubagus Iman Ariyadi said that the cooperation with Riyadh Group Indonesia was based on the credibility, competence, and business network of the business group in the development of property projects, especially apartments. For this reason, he hopes that this collaboration will bring added value to the development of The Grand Mangku Putra Arcade Cilegon.
"Through this collaboration, we hope that soon there will be an integrated area for hotel accommodation, culinary and entertainment that will become a new icon not only in Cilegon, but also in Banten," Iman hoped.