RealEstat.id (Cilegon) – PT Grand Mangku Putra (GMP) and PT Riyadh Group Indonesia held a soft opening for New The Natrabu Cilegon Restaurant in the integrated property area of ​​The Grand Mangku Putra Arcade (GMPA), Saturday (16/4/2022). On the same day, GMPA also signed a cooperation agreement with the heliport manager, namely PT Whitesky Aviation (HeliCity).
President Director of PT GMP, Tubagus Iman Ariyadi, said that the collaboration with HeliCity provides an opportunity for people from Greater Jakarta to enjoy beach tourism and culinary delights around Cilegon without getting stuck in traffic jams. HeliCity will offer a coastal and mountain tourism program with a landing point at The GMPA.
Read More: Riyadh Group to Develop Grand Mangku Putra Arcade Cilegon
"Cilegon has a market for helicopter taxis, where people need fast transportation for business and industrial purposes. In addition, around Cilegon there are a lot of beautiful beach tourist areas, including Mount Krakatau. So, people don't have to go to Bali to feel the sensation of riding in a helicopter, because the beaches here are quite beautiful," said Iman.
President Director of Riyadh Group Indonesia, Bally Saputra Datuk Janosati added, that the presence of HeliCity and The New Natrabu Cilegon, will accelerate the rebranding process of The GMPA area, which will become the largest culinary and family entertainment center in Banten Province and even in the west of Java.
He even claims The New Natrabu Cilegon restaurant as the largest and most luxurious Minang restaurant in the world, as it has 1,000 seats and 14 VIP Rooms. The restaurant is also the first Minang restaurant in the world to be directly served by helicopter transportation.
Read More: Riyadh Group Indonesia Officially Enters Healthcare Services Business
"We are targeting the grand opening of The New Natrabu Cilegon Restaurant to be held in July 2022, so that it is 100 percent ready to serve guests," said Bally.
Meanwhile, he said, after Eid Al-Fitr this year, there will also be a legendary culinary delight such as beef leg soup, Kitchen Mamih Lamb Sate, and Soto Jadoel Pak Yanto in The GMPA area. As well as several other legendary culinary delights that are currently still in the negotiation stage.
"So this area will become like a place for 'sultans' to hunt for culinary delights, where they can come by helicopter. I also challenge the 'sultans' such as Raffi Ahmad and Atta Halilintar to come here so that they deserve to be called sultans," said Bally, joking.
Read More: Riyadh Group Indonesia and ICHC to Develop Halal Tourism Industry in Indonesia
Meanwhile, the former chairman of the DPD RI, Irman Gusman, who was present at the event, assessed that the partnership between entrepreneur Bally Saputra and Tubagus Iman Aryadi was a form of the emergence of a new economic nationalism in Indonesia.
"I think the soft opening of The New Natrabu Restaurant in Cilegon is not an ordinary event. This is the era of the rise of new economic nationalism triggered by Minang warrior entrepreneurs with economic power in Banten," said Irman Gusman.
According to him, the history of Indonesian nationalism between the regions of West Sumatra and Banten has been formed since the Emergency Government of the Republic of Indonesia (PDRI) led by Mr. Syafruddin Prawiranegara. Mr. Syafruddin, Irman explained, is a national figure who has a mixed area of Minang and Banten. His father was born in Banten and his mother was from the Minangkabau area.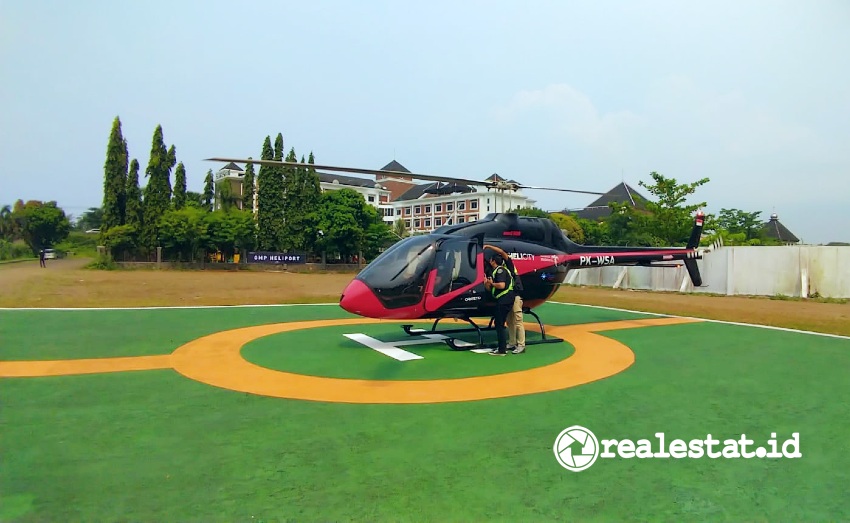 Development Area
In addition to preparing culinary, recreational, and helipad facilities, the development of The GMPA area of 4.5 hectares is also continuing. Including the plan to develop a lifestyle mall and two-tower apartment in Q1 2023 with an estimated cost of around Rp800 billion.
Iman Ariyadi said, currently the ballroom and the 150 rooms hotel are being restored which will be converted into a condotel (condominium hotel) for foreign workers (expatriates). The company targets the grand opening of the ballroom and condotel to be held in November 2022.
Read More: Indonesia Property Investment and Strong Sentiment Towards The G20 Meeting
Condotel units are sold fully furnished with ownership rights to flats (strata-title) for Rp1 billion to Rp2 billion. The average room type is 30 square meters. PT Bally Internasional Hotel & Resort (BIHR) as the management of the condotel offers a rental guarantee of 8% per year for 8 years to the owner of the condotel unit from the rental.
"We appreciate the hard work of PT Riyadh Group Indonesia, which in just 2.5 months since the MoU has been able to develop this fast," said Iman. He also hopes that the development of The GMP area will be able to create employment opportunities for 1000 people, of which 80% are residents of Cilegon City.
For the next developer, in the first quarter of 2023, the construction of a lifestyle mall and convention hall for international concerts will begin in The GMPA area. Apartments and two rental towers on an area of ​​5,000 square meters.
Read More: Property Investment in Indonesia: Wrap-up for 2021 and Opportunities in 2022
According to Bally Sahputra, the lifestyle mall will be developed on an area of ​​2 hectares with an open mall concept equipped with various culinary delights, a children's playground, a mini zoo, and other family entertainment centers. Meanwhile, the two rental apartment towers consist of 800 units including those that will be managed as three-star hotels.
"The total investment for the development of a lifestyle mall, convention hall, and apartment for two rental towers is around Rp800 billion, which will be financed in stages starting early next year," said Bally, who is Nepal's Honorary Consul and Secretary of the Indonesian Real Estate DPP Organizational Advisory Agency (REI).